News blog- October
Hitaishi Thakkar,
Second year MBBS student
" October is the opal month of the year. It is the month of glory, of ripeness, it is the picture month."
-Henry Ward Beecher
We bring to you the October edition of our newsletter. October is celebrated as "Breast cancer awareness
month" globally.
Breast cancer awareness month
In India, 1 woman is diagnosed with breast cancer every 4 minutes. Breast cancer accounts for 25 to 32 %
of female cancers. More than 50% breast cancer patients in India are suffering from stage 3 and stage 4.
Breast cancer is the most common form of cancer in women worldwide, is on a fast and steady rise,
accounting for more deaths in women than any other cancer in the developing world.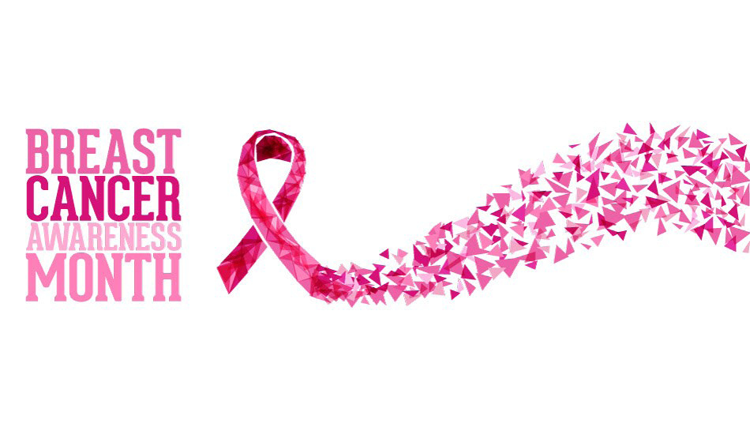 Signs and symptoms of breast cancer:
● A lump or swelling in the breast, upper chest or armpit
● A change to the skin, such as puckering or dimpling
● A change in the colour of the breast – the breast may look red or inflamed
● A nipple change, for example it has become pulled in (inverted)
● Rash or crusting around the nipple
● Unusual liquid (discharge) from either nipple
● Changes in size or shape of the breast
Screening of breast cancer:
● Self examination : It is one of the most effective methods for early detection of breast
cancer.Breast Self Examination is done by feeling the breast tissue with the opposite hand. This
helps to keep in notice any irregularity, any lumps, the skin, the nipple etc.
Clinical breast examination: It is the breast examination done by a doctor who makes a detailed
evaluation on the patient's history and perform a body check up. According to the guidelines CBE
should be done.
– Once in 3 years for women in the age group of 25 – 40 years
– Once a year for women above 40 years of age

● Mammography: It is a special x ray of the breast performed in two directions, to show up any
abnormal lumps located in the breast. Women above the age of 40 years should get it done
annually as suggested by the guidelines.
Let us support the fighters of breast cancer
Let us Admire the survivors,
Let us honour the taken,
And never ever give up hope.
Dietary intervention reduces anemia in Madhya Pradesh
Intervention to reduce the prevalence of anaemia in Madhya Pradesh—the distribution of double-fortified
salt (DFS), which contains both iodine and iron supplements—has shown encouraging results.
Within two years of the intervention, the prevalence of anaemia has been reduced by 5 percentage points
in the targeted districts.
DFS contains both iodine and encapsulated ferrous fumarate, which boosts blood iron levels and prevents
iron depletion. DFS can provide 30 per cent of a person's total daily iron requirement, with the rest
coming from a balanced diet. Salt was chosen as the carrier medium for this supplement since it is a
commonly consumed substance that is used year-round and by all age groups.
Besides showing a five-percentage point drop in anaemia prevalence, there was also transition from more
severe to less severe levels of anaemia across the targeted population.
Data from a baseline period (2018-19) was compared against data from an endline period (2020-21)
Currently, a total of 13.5 million beneficiaries in the targeted group are receiving DFS.
Why Integrated medicine is more than just a passing craze

Integrated medicine in simple words, is practicing medicine in a way that selectively incorporates
elements of complementary and alternative medicine into comprehensive treatment plans alongside
solidly orthodox methods of diagnosis and treatment.
Modern medicine has got tremendous strength in terms of diagnosis of the complete human body, which
can look right from the physical body to the molecules, micro molecules inside the body and identify the
severe/critical health issues including occult infection, but when one looks at the traditional systems of
medicine, it treats the human as a whole, taking care of its existence at physical, mental and spiritual
level.
The controversy and also conflict between the two systems need to melt away in the present scenario and
there should be union, convergence and cohesive attitude to look with open mind both the systems and
then look at the processes by which this integration can be made possible.
Are we ready to look at that challenge of integration? There is a need for global debate and to create a
movement of integration rather than disintegration due to conflict and controversy. Through this
integration, India may contribute to create a new world order, where 'Health for All' may perhaps be
ensured in another decade or so.
Gandhi Jayanti
Gandhi Jayanti is celebrated annually on 2nd October to commemorate the birthday of Mahatma Gandhi.
In conclusion, I'd like to quote Gandhi
" Our greatest ability as humans is not to change the world, but to change ourselves"
Citations:
1.https://www.theweek.in/news/health/2021/07/28/opinion-integrative-medicine-is-the-way-forward.html
2.https://www.indiatoday.in/india-today-insight/story/how-a-simple-dietary-intervention-helped-reduce-
anaemia-in-madhya-pradesh-1835452-2021-08-02
3.https://www.breastcancerindia.net/early-detection-of-breast-cancer/index.html
4.https://images.app.goo.gl/1KLZqx75R95SnL76
5.https://bmcwomenshealth.biomedcentral.com/articles/10.1186/s12905-020-01083-6
6.https://m.timesofindia.com/city/bhopal/dfs-reduced-anemia-cases-by-6-in-madhya-pradesh-
survey/articleshow/84895798.cms
7.https://breastcancernow.org/information-support/have-i-got-breast-cancer/signs-symptoms-breast-
cancer